Head stock and inlay designs
I am almost finished carving the the back plate, and I have worked the neck some: routed a bowed truss rod groove, routed the dovetail joint where it will join the body, and I planed the surface opposite the finger board. I am planning on a nice wide neck, to accommodate big clumsy fingers.
Head stock shape and inlay
Before I even had the materials in hand, I was trying to design what the head stock of the guitar would look like. I had already decided in a light toned body and neck, with ebony finger board and ebony veneer peg head. I plan on binding the head stock and neck. the drawing on the right shows the earliest ideas that I was exploring for shaping the peg head and mother of pearl inlay.
Final head stock design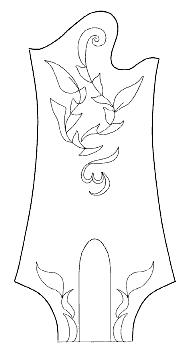 After working through the design a few times I finally decided on the design to the right. What is not shown is the space taken up around the edge by the binding. The binding will include thin white-black-white-black laminates with a wider white binding. The inlay will be from all white mother of pearl. I decided to keep the design simple. Notice how the leaf shapes will appear to be connected to a stem, that does not actually exist. They partially resemble leaves, and partially resemble flames. The W is my last initial. 
Not shown is the position the tuning machines will occupy. The design here does force them to cluster rather tightly, and relatively low on the peg head compared to Bennedetto's models, but I did lay them out and I think I will like it.
Inlay designs for the finger board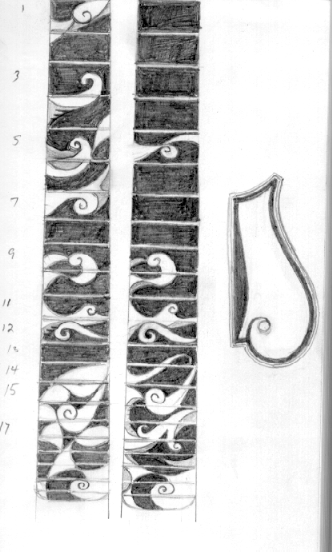 The drawing on the right shows two inlay designs for the finger board and one idea for the pick guard. The inlay designs combine black and white MOP to form curly shapes that resemble smoke. It is some what consistent with the head stock theme of leaves that resemble flames. The finger board design on the right was done second and simplifies the design. I would prefer to simplify it more. Little is done in the areas where the finger board is used the most. Who knows, I may end up with plain white dots. I sure don't want to mess up a perfectly nice finger board. 
The pick guard design is intended to complement the wisps of smoke on the finger board. It would be made from ebony with a thin sheet of MOP. The volume knob is placed at the center of the spiral. It would all be bound with to match the f-hole binding. 
These ideas are likely to change as I get closer to the end. What I am most anxious for is the day I can string the thing up and see what it sounds like. By next months update I should be able to report how the side bending and lining went.